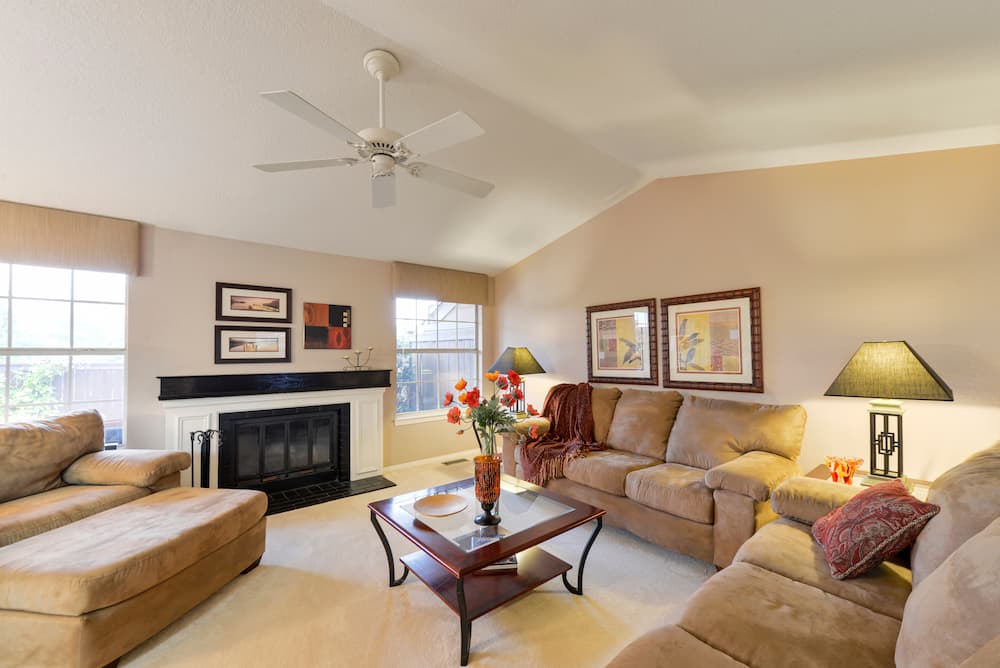 Home staging is a proven technique for getting your house sold quicker because it makes your place stand out from other homes for sale. While there are no guarantees, staging might help you get a better price as well. At Cal Home Real Estate Services, we can help you put your home in the best light possible when you're ready to put it on the market.
Home Staging Checklist
Staging a home is not the same as cleaning, though both are important before making your house available for home viewing. After the routine cleaning of your floors and the dusting of your shelves, it's time to declutter, make repairs, and update where you can. Here are some tips to get you started.
Add simple but stylish lamps to rooms that need more light. Illumination adds good cheer and brilliance.
Aim for symmetry when you are accessorizing. For example, put the same number of pillows on each end of the sofa. The human eye enjoys balance and finds symmetry appealing.
Remove a few pieces of furniture from each room to make the space more open for home viewing. Evaluate each room carefully and see what you can live without while your home is up for sale.
Buyers love to imagine themselves living in the house. Set out a board game or puzzle on a table to help them see what life would be like in the space.
If your room has a fireplace, make sure it's clean, and light it up if the season is appropriate. Change out the screen if needed so that everything looks shiny and new.
Consider using slipcovers in cheerful, inviting colors and patterns if your furniture might be distracting. You might also consider renting staging furniture for home viewing.
If you choose to add soft touches like accent pillows and blankets, go with bright colors that coordinate with the theme of the rest of the room.
Group furniture in ways that encourage togetherness and conversation.
Set your TV to display a beautiful and peaceful screensaver, or play soothing music but keep the volume low.
Staging for Pictures
Listing photographs are often the first thing that catches a potential buyer's eye. Tasteful and illustrative photos can help your home get more attention in a competitive market. To get the most significant benefit from your photos, take these steps before the photographer arrives.
Declutter the countertops, desks, fireplace mantels, and any other surface in your home that you can. Don't skip the bathrooms or wall hangings.
Let the light shine in by opening window blinds and curtains to welcome the natural illumination.
Consider having carpets cleaned and hard surface floors polished by professionals before the pictures. Professional photography can pick up stains you might not expect.
Safekeeping Personal Items
Removing personal items before you put your home on the market has multiple benefits.
Your valuable possessions will be out of sight.
Removing personal items helps with the decluttering process.
When you take down things that make the home "yours," it's easier for potential buyers to see it as "theirs."
Where to Learn More
When you're ready to sell your home, contact the friendly and knowledgeable team at Cal Home Real Estate Services. We help you sell your home using the most modern tools, avoiding outdated methods like open houses and yard signs. Contact the Cal Home team today, and let us put our decades of experience in the San Francisco area to work for you. You can also reach out by calling (925) 690-1173.
Image Source: Jonathan Park / Shutterstock